News : Organisation of a tour alongside sustainable retrofitting projects in Brussels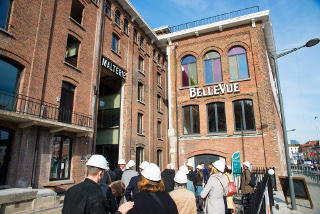 CERAA organised in October 2016 an afternoon tour for the annual event of Renovate Europe at the request of Brussels Environment. Renovate Europe is a political communications campaign aiming to develop ambitious legislation and programmes on a European level regarding high energy-level renovation of the building stock.
We had the pleasure of taking the group along two impressive renovation projects, illustrative of the Brussels expertise in sustainable retrofitting: Rue Luther, a Brussels townhouse renovated into four passive apartments (architect: Julien Kessler) and Quai du Hainaut, a former brewery building turned into low-energy tertiary spaces (offices, restaurant…) and a passive-level hotel (architecture studio l'Escaut).
Take a look at some pictures of the event on our Facebook page
, and
check out a video of the event
(with images of the visits) !

Coming up
Thu 21/09/2017
From 12:00 to 14:00
Visit of the TERRA AWARD exhibition
CERAA invites you to a commented visit of the TERRA AWARD exhibition in Brussels where you'll discover the construction techniques of earthen architecture and examples of contemporary projects built with earth.