Last News : Launch of B3-Retrotool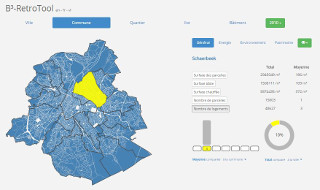 CERAA is glad to announce the launch of B3 Retrotool. This pre-assessment tool for retrofitting scenarios of residential buildings in the Brussels-Capital Region provides a clear vision of urban metabolism at different scales (city block, district, municipality…) and according to different housing typologies. B3 Retrotool is developed by ULB (research cell "Batir") and UCL (Architecture et Climat) within the "Brussels Retrofit XL" research platform thanks to an Innoviris research grant.
CERAA contributed to the finalisation stage of the tool by evaluating the tool in two test phases on real renovation projects of high energy efficiency and environmental performances.
B3 Retrotool is available online (after a quick registration process):